Today I decided to take a different direction, since I am out of thin styrene for the skins, and I am finishing a body kit for someone, I figured I will post about the parts I am making to complete his body. Kind of killing 2 birds with 1 stone. But fear not, we will get back to skins and body frames very very soon.
Below is a picture of the finished Octagon port, glued into the body.
Many people make these from Resin, or machined aluminum.   I took a different approach.  I decided to do a flatpack design.
For this design, I am using a 0.05″ diameter endmill.  the reason for this is the designs that are in the bottom of the port have to be pocketed.  and the smaller the bit size, the better.  I am including the gcode in the zip file, so if you do not have a bit that small you can adjust and re generate your paths as needed.  Here is the layout of the DXF file in Cut2d. (material is 0.125″ styrene)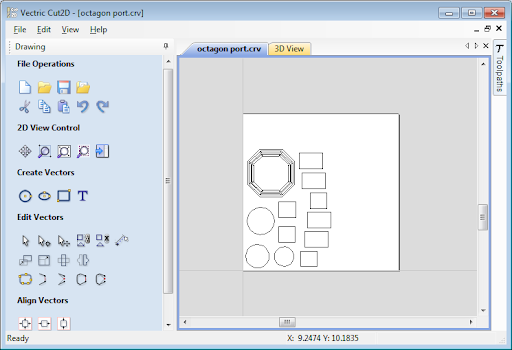 The idea behind this flatpack is to make a quick and easy octagon port using some scrap pieces of .125″ styrene.
Anyway, this was a complete experiment, and turned out quite well as you can see from the picture above.  The base of the port is .125 styrene and has pockets of depth 0.0625 for the designs.  I probably should have used an even smaller bit for more detail, but I went with the smallest one I had.
There is a bit of a gap where the bottom part is not completely flush against the body, I figured I will either use some filler before I paint it to cover it, or just leave it as is… its totally up to you.
Anyway, here are the files for this design: OCTAGON ZIP FILES
In Summary, remember, these are guidelines… think out of the box when taking these things in… You could optionally use a single piece of MDF, and pocket the octagon port completely so the housing is a single piece, then you could glue the base styrene piece in and then add the styrene disks… or you could go right from the sketchup model and use CUT3D to cut the entire thing from MDF, its totally up to you.  everyone will find their own path eventually.. some may even end up on the dark side!
UP NEXT: TIME FOR COIN SLOTS